Sweetie, the Brindle Beauty
Sweetie is an energetic dog! I always wondered how much activity she was actually getting so this collar has been great for us. The peace of mind of having a GPS tracker is why we bought this collar, but the other features are really just as great!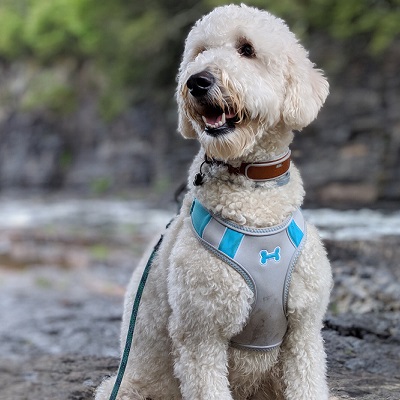 Clyde, The Dood
Clyde is the happiest dog we know, and also extremely curious. While we have not had any major incidents (THANK GOD), we have had him run into the neighbors' yards before. We got LinkAKC shortly thereafter. Besides GPS tracking, I truly enjoy the activity tracker. Clyde is a big boy (65lbs) and only 2 so he still needs a lot of activity everyday. I love receiving the "Clyde has reached his activity goal" notification. We just want him to live his best life. @clydeisthedood
Kylo Ren, the service GSD
Kylo Ren is my service dog. He is a balance assistance dog. He goes almost everywhere with me. However, he is most likely to get lost at home. Our house backs to 154,000 acres of national forest. When he was younger he got lost for 3 days and I was convinced he was dead in the mountains. After we got his link collar, he got out with my daughters Husky. It took us about 3 hours to track them through the mountains with no roads and few trails, but we got them back safely and it was a great comfort to me to at least have an idea of where he was while we were trying to track them.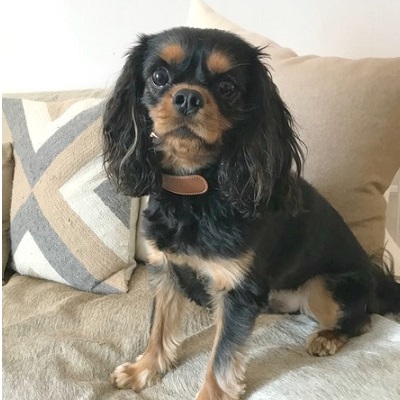 Jeeves, the NYCavalier
As an attorney in New York City, I have a very busy schedule. I love being able to keep track of my love, Jeeves, while I'm at the office. He goes to doggy daycare, and I love getting alerts to show when the walker picks him up and drops him back off. It's also great to see how much activity he is getting throughout the day. It makes me feel like I'm with him, even when I am not able to be.
Bleu, The Neighborhood Adventurer
Bleu is a wanderer for sure! Our neighbors on both sides of us also have dogs that he likes to visit with! My son lives behind us we all live on 6 - 18 lots!! He goes to my son's house, they live in a subdivision with lots of dogs! He loves to visit everyone but did not know when to come back! All of my son's neighbors knew he belonged to us so they would call him and tell him Bleu was over there. My son would call us and tell us he was there! Read More
That is like 3 to 4 miles he would be away from home and he could disappear in a few minutes even if I always go out with him. He is a lab so he can definitely run fast! So now that we have the link he has not been able to get away without me knowing! I was always afraid he would be picked up by someone because he is so friendly so he could have easily got in the car with anyone! The Link Collar is perfect for us we love that we know when he has gotten away from his docking station!! Love the Link!!
Coby and Marley, the Dynamic Duo
Coby, my 6th month old Australian Shepherd, and Marley, my 5 year old German/Australian Shepherd mix, are my adventure buddies. Wherever I go, they go. From the High Peaks region of the Adirondacks, to the shores of my hometown Lake George, NY, we're always on the go. Some of these places are remote areas, so the peace of mind their Link AKC collars give me is invaluable. No matter where we end up, I know we'll always be there together thanks to the GPS tracking capabilities of their collars. Thanks, Link AKC!
Rocky, The Farm Protector
Rocky is a Russian Caucasian Shepard Dog. He was purchased as a guard dog for the farm to keep out foxes, coyotes and Wolves. Although he is young he is doing his job as a guard dog. The reason I purchased the Tracker is because of his coloring I was having problems finding him. Often he was close by and it was taking up a lot of my time looking for him. Believe it or not, he is wearing his collar but this picture doesn't show it as he has too much hair!
Leo, the Freedom Beagle
Leonidas (aka Leo) is a rescue from animal testing. He spent the first part of his life in a lab, subjected to tests of human medications and products. Since his rescue by the Beagle Freedom Project, he has learned to love the life of a free beagle. His favorite thing is water so we love that his Link Sport is water resistant so he can dive into every pool and puddle everywhere he goes!
Lennie, the Comeback Kid
Today is Lennie's one year anniversary with our family!
Lennie was a stray when he was born, and around six months old he was picked up by animal control. The little pup was in terrible condition: mange, cuts, scabs all over his head, and malnourished. But Lennie wanted to live. Read More
A rescue group adopted him and began the process to heal Lennie's injuries. It took almost a year, and he had moved from foster home to foster home until we adopted him--one year ago today. Our home was the 7th location he had lived during his brief 18 months of life. We immediately purchased a LINK collar for him, to make sure he wouldn't have to deal with another crisis if he should get lost. It is reassuring to know that we can locate him if he wanders.
When Lennie arrived he was aloof and didn't want to emotionally connect with us. I'm sure he assumed he would soon be moving on to another foster home. Each month he got closer to us and showed his gratitude for the unconditional love we gave him.
Lennie is now a cuddle bug. He's a big guy, but loves to sit on my lap as I rub his beautiful cheeks. He makes it clear that he isn't leaving. With his LINK, we know he's safe.
Lennie has figured out he is in his forever home.
Piper, the protector
Piper the service dog has a very important job of keeping me safe, the link was just one small way I could repay her and keep her safe, the temperature alerts are so important in making sure my dog is comfortable at all times since she goes everywhere with me in all types of weather. It's a nice piece of mind in not only her safety but mine as well.
Duster, the recovery partner
Duster my basset hound is my cancer recovery partner. He is what gets me up in the morning and keeps me going all day long. I owe my health to what he has done for me. I track every day with his collar it is very rewarding to see how active we are together.
Camo, the Sneak!
It took less than a week for my wife and I to realize that we were being outsmarted by a six weeks old Miniature Schnauzer. We put in a doggy door and since we were house training, we gave her a treat for going outside to do her business.
I realized that we were going through a lot of treats, so I hid and watched her come out her door, run around the corner of the house and stay there just long enough to deceive us. Read More
11 years on, and she is still sneaky. We got her a correction collar but one time we left it off and she ran to the neighborhood pond; ate a mushroom and started acting GOOFY.
I took her to the vet and showed him a photo of the mushroom and he said it caused a drug induced effect. When she found the neighbors ant poisoning, it was time to deal with the clever canine.
We got the Link Collar and not only do we know she can't hide, but she knows it too. I love checking her activity throughout the day. I will use the Link collar as long as I am a dog owner! Thanks Link!
Teagan, the service dog
Teagan is my service dog, and I literally can't leave home without her. She goes everywhere with me, but she's deaf so I worry if she goes exploring she won't be able to find her way back. The link gps feature gives me huge peace of mind, and on a recent road trip Teagan was wandering around the RV park and I couldn't find her — I absolutely panicked. Then I remembered she had her link on, used the gps, found she was still in the park, and she was eventually returned home safely! I also love the light feature so I can check in on Teagan underneath dark booth tables at restaurants, it's so useful. Thank you so much link, for making my life and my pup's life safer and easier.
Scout, the Adventurous Beagle
Scout is a Beagle with a love for adventure and chasing anything that moves. With the Link AKC, I've not only been able to find Scout when she manages to go off on her own, but I've also been able to track our favorite adventures together! Scout has a fascination for chipmunks, and despite her well-trained ears for listening to her mom, when a Chipmunk comes, all that training goes out the window. Because of that Beagle nose, the Link AKC helps alleviate any panic when Scout decides to venture off on her own.
Ellie, The Playful Pup
We adopted Ellie almost a year ago and she is so energetic and a happy puppy when she plays outside with her toys. When throwing her a ball or Frisbee sometimes she forgets her self when she sees a bird or squirrel and takes off. It is nice to know we have our LINK AKC collar in case she goes a little too far. We love the light on her collar when we take her for walks at night.
Zack, The Gentleman
Zack is an older gentleman with high energy, and unfortunately is home most of the day while I am at work. Now with LINK AKC, I can track his steps to make sure he is getting the proper amount of exercise each day based on the apps recommendation. I also love that now I have added security when I have a dog walker come into my home. I know that he has left the house, and where he is on his walks. I also love that his collar tells me when its too hot or cold so I know to adjust the temperature in his environment.
Indy, the pack adventure pup
Indy was adopted by us 2 years ago. We love watching him on the app as he travels with his pack on hiking adventures. The photo bouncing down the freeway with paw prints is epic! We also love the light that helps us find him when he hides in the yard at night!
Everyday is an adventure with Indy!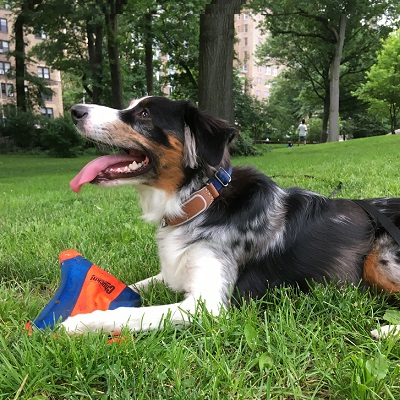 Patches, the Canine Good Citizen
I got the Link AKC because not only is patches very very active, he is also still in training. While he graduated CGC with flying colors, outdoor training is still a bit challenging with so many added distractions so I constantly worry about him taking off. With the Link AKC, having a way to track him in the event he runs off is a huge relief. We use all the features daily and the biggest use right now is the fitness tracker as helps keep us informed about how much he should be doing.
Teddy, the Golden
We absolutely LOVE the Link AKC collar, both the leather and sport sleeve. The formal leather collar is gorgeous, but the sport sleeve is so much more Teddy's style. He loves wearing his collar around the office and getting all the attention. We are big proponents of Link AKC!
Kenzie, the scruffy adventurer
Under all of that fur is a Link AKC collar that we absolutely LOVE! Our favorite feature is the activity tracker because Kensie is full of energy. We love tracking how she is meeting her goals every day. An added bonus is that it is waterproof for when she goes romping through puddles!
Mia, blind but mighty
Our sweet dog Mia recently lost both of her eyes due to illness and we were distraught. We feared not only that she would not get the same amount of exercise as our other dog Leo, but that dog forbid she might get lost. The Link collar has been great for us! We can track her and it really does give us the peace of mind that the company boasts.
Toby, the horse whisperer
Toby comes to work with me every day at a horse farm. Thanks to LINK AKC I never worry about where he is! He is a bundle of energy and loves to explore and play all day at the farm. I love that I always get an immediate notification when he leaves the set perimeter so I can quickly find him! Also I can see how much activity he has had or whether he spent more of that day napping in the sun. The picture is of Toby and one of his many equine friends! He loves licking them on the nose.
Bells, the miracle pup
My little Bells is truly a miracle. We rescued her when she was one, and has since had her leg fractured by a horse and had her neck punctured by a coyote. That hasn't slowed her down, she still loves to be out and about. Very excited when I found this collar as she is losing her sight and it gives me comfort knowing I'll be able to find her quickly if she gets loose and wanders off.
Ella, the NYC Adventurer
LINK has truly changed our life. Ella gained almost 25 lbs when we moved to NYC. Fortunately LINK AKC came into our lives and gave me visibility into her daily movement. Now she's back to a healthy weight and is spry like a puppy!
Tybee lights the way
Tybee loves his light! ...and so do we! It helps us see what he is up to in our backyard at night and it keeps all of us safe on walks after sunset. Thank you, LINK!
Dexter, the city dweller
Dexter is a golden retriever who's boundless energy and enthusiasm for neighborhood travel make him a handful to keep track of all the time! With my LINK I'm able to track his activity during the day to make sure he's getting enough exercise and keep an eye on his neighborhood exploits with the dog walker while I'm at work. I feel better always knowing where he's at and what he's up to while we're apart.
Callie, the golf course dog
Callie is a Border Collie who works on a golf course in CT. My favorite thing about her LINK AKC collar is that I can track how much activity she is getting during the day and can actually see if it is low, medium, or high intensity. I can also monitor what part of the golf course she is on from my desk at work miles away!
Roy, the Griff
Griffs are known as a "Velcro breed", meaning they're very attached to their people so I don't worry about him running away. What I do worry about, & like most about my LINK, is him getting the enough exercise. I now have a reliable way to make sure he's being walked by my dog walker when I'm at work. I don't have to take anyone's word for it. I know when he leaves home & when he comes back...I can literally see it!
Wilson, the Trail Blazer
Wilson is the peanut butter to my jelly and Link AKC has become the bread that holds us all together! The Link AKC smart collar has become the indispensable product for my relationship with my guy. I now know that Wilson's minimum daily activity goal is 90 min a day, and love the temperature alerts for when we go hiking!